Comparing different methods of taking CBD is a common topic for discussion among users. After all, with so many consumption options available to consumers, it wasn't going to be long before debates started happening. As a result, it is not uncommon to see topics such as CBD tinctures vs. capsules or CBD oil vs. capsules. 
For the most part, most users are curious about which method is better and what makes each different from the other. However, other people are just trying to win everyone else to the side they think is best.
Either way, we'll let you choose yourself.
In this article, we share insight into two methods of consuming CBD — tinctures vs. capsules. We thoroughly explore each option and walk you through their perks and drawbacks.
So, keep reading to find out more.
Key Takeaways
CBD tinctures and capsules are both oral methods of consuming CBD.

Generally, CBD tinctures have a faster absorption time, and you'll likely feel its effects before CBD capsules.

However, CBD capsules help you avoid the raw taste of CBD, and it is typically easier to track its dosage.
What are CBD Capsules?
CBD capsules are one of the several ways that you can take CBD. As the name implies, CBD capsules are actual capsules that allow users to take CBD into the body via the digestive system. 
Of course, this means you'd have to put the capsule in your mouth and swallow using water or any other liquid you choose (we recommend water, though).
Highline Wellness CBD Capsule - Women's Libido 20mg 30 Count
$34.99 in stock
as of April 7, 2023 7:34 pm
Sometimes dinner and a movie doesn't cut it or you just need an extra hand. Our Women's Libido Capsule helps to get you in the mood and keep you in the mood. All. Night. Long.
back to menu ↑
How to Use CBD Capsules
Consuming CBD capsules works like any other capsule. All you need to do is swallow it, and you can get back to your day, or go to bed, depending on what time you take it.
However, you should always note your dosage when taking CBD capsules. Most products come with an exact dosage and instructions on how to take them, and you can follow these. However, if you are taking CBD capsules for health purposes, it may be best to get a dosage recommendation from your doctor.  
Another thing to note about taking CBD capsules and other edibles is that their effects on the body usually take longer to manifest than with vaping and tinctures.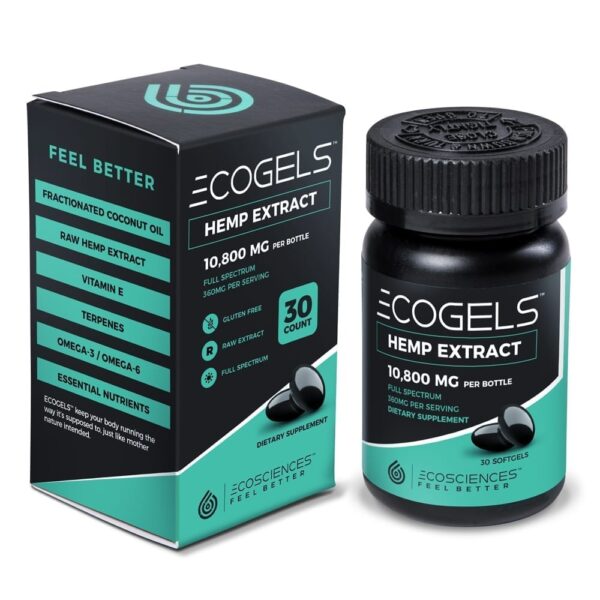 EcoGels CBD 750mg (25mg per capsule) 30 Capsules
$59.99 in stock
as of April 7, 2023 7:34 pm
CBD Drip EcoGels CBD 750mg (25mg per capsule) 30 Capsules are a full-spectrum CBD-rich whole plant cannabinoid product that's lab tested for quality assurance
back to menu ↑
Benefits of Gastrointestinal Absorption of CBD
When you take CBD via capsules, it goes first to your digestive system, and from there, it is absorbed into the blood to be used in the body. This process is referred to as Gastrointestinal Absorption, which has some benefits for the body, particularly in the gut. 
One such benefit is the fact that the gastrointestinal absorption of CBD helps to deal with issues like inflammation in the gut. 
A good number of the problems that arise in the gut, particularly pain and heartburn, may be caused by inflammation. However, some research has shown that CBD has anti-inflammatory properties that may help ease this. 
back to menu ↑
Are CBD Capsules Safe?
CBD capsules are generally safe to use, and the World Health Organization also agrees. However, you should also note that research is still ongoing, and CBD has been discovered to have some side effects.
However, following the recommended dosage for CBD capsules should help you prevent these side effects while harnessing the benefits of CBD.
back to menu ↑
What are CBD Tinctures?
Tinctures are the more mysterious method of taking CBD. Not to worry, they are also safe and will even help you feel the effects of CBD much faster.
With CBD tinctures, the compound is in liquid form, and you consume it by placing drops under your tongue (sublingual application). This allows the mucus membrane under your tongue to absorb the CBD directly into your bloodstream.
As a result, the CBD goes to work in your body relatively quickly as it bypasses all the delay that comes with your digestive system.
CBDFx Wellness 2:1 CBD & CBG Tincture
$39.99 in stock
as of April 7, 2023 7:34 pm
CBDFxWellness 2:1 Tincture - CBD & CBG - Broad SpectrumWhat do you get when you combine a powerhouse formula, that's paired with amazing taste?TheCBDFxWellness 2:1 tincture that boasts a 2:1 CBD to CBG ratio!The new CBDFx Wellness 2:1 tincture is precisel
back to menu ↑
Benefits of Sublingual Absorption of CBD 
There are a couple of benefits that come with taking CBD sublingually. Here are some of them:
Increased Speed of Absorption 
One of the major advantages of taking CBD via tinctures is that it is quickly absorbed into your bloodstream, allowing your body to reap CBD's effects far quicker than with capsules.
This happens because CBD is quickly absorbed by the mucus membrane beneath the tongue and passes quickly into the bloodstream. 
May Improve Potency
One drawback of taking CBD orally, that is, via edibles and capsules, is that it first goes through the digestive system, where parts of it may be lost, reducing its efficiency. 
However,  when consumed sublingually, CBD goes straight to the bloodstream, which reduces the chances that you may lose parts of it in transit. As a result, CBD tinctures consumed sublingually may be more potent.
Easy and Convenient
Another great thing about sublingually taking CBD is that there is no fuss about it. All you have to do is place a few drops beneath your tongue, and you are good to go. To regulate dosage, you can decide how many drops you will take at a point in time. 
Eclipse CBD Flavorless CBD Isolate Tincture
$38.99 in stock
as of April 7, 2023 7:34 pm
Eclipse CBDFlavorless CBD Isolate Tincture with MCT OilTrying to find a CBD product that has a good flavor behind it but not finding anything that sounds appetizing?Don't get a bottle of a flavor that you think you will like,when the Eclipse CBDFlavorless
back to menu ↑
Are CBD Tinctures Safe?
As stated with capsules, CBD tinctures are generally considered safe and may be linked to specific health benefits. This does not, however, eliminate the fact that there are possible side effects that may accompany consuming CBD. 
back to menu ↑
CBD Capsules vs. Tincture: What's The Difference?
The fundamental difference between capsules vs. tinctures is in how you take them. 
With CBD capsules, you'd have to swallow them, and then they go to your digestive system. Your body then breaks them down through digestion, from whether the compound now makes its way into your blood.
On the other hand, with tinctures, you take them sublingually, which involves placing drops beneath the tongue.
Apart from this noticeable difference, another significant difference between capsules and tinctures is how your body processes them. With capsules, they go to your digestive system, and then from there, CBD is transferred to your bloodstream. 
On the other hand, tinctures give CBD a much quicker route via the mucus membrane underneath the tongue straight to your bloodstream. 
Made By Hemp Mojito Lime Hemp Extract Tincture
$99.99 in stock
as of April 7, 2023 7:34 pm
Made By Hemp Mojito Lime Hemp Extract Tincture - 1,000MG CBDThe Made By Hemp Mojito Lime Hemp Extract tincture is the first of 3 incredible flavored CBD tinctures offered by Made By Hemp.At first glance you may think that an adult beverage flavored CBD ti
back to menu ↑
Benefits of CBD Tincture vs. Capsules
Apart from the differences between tinctures and capsules, there are also benefits to each method.
For instance, with capsules, there is an accurate way to measure the dosage of CBD that you are consuming, which is very important if you are taking CBD, mainly for health reasons. Another benefit of capsules is that they are convenient and a great way to take CBD without dealing with bitter or sweet tastes. –
Also, capsules may be more effective in helping with gut health and in dealing with heartburn. Since capsules go through your digestive system, the CBD interacts with the cannabinoid receptors and the endocannabinoid system in the gut to deal with issues like inflammation and immunity that may help to manage infections and heartburn. 
On the other hand, tinctures are great because they allow CBD to be absorbed quickly into the body, ensuring that you quickly experience all the potentially positive effects o CBD. 
Furthermore, they also ensure that your body gets the best effects of CBD because it goes directly to your bloodstream without any detours.  
It is important to note that this isn't a case of tinctures being better than capsules or otherwise. Instead, it is a case of which method best helps you achieve your goals for taking CBD. The same applies to CBD softgels vs. oil, CBD oil vs. CBD capsules, CBD pills vs. oil, and CBD capsules vs. oil. 
Medterra CBD Good Morning Capsule 25mg Single Serving
$4.99 in stock
as of April 7, 2023 7:34 pm
Start your day off right with Medterra CBD Good Morning Capsules. Their proprietary blend combines the energizing boost of caffeine, B6, and B12 with 25mg CBD, L-Tyrosine, and L-Theanine to give you mental clarity throughout your day. Now available in a s
back to menu ↑
CBD Tincture vs. Capsule: Which One is Right for You?
There's no right or wrong answer here. It all depends on you — your specific needs and preferences. 
For instance, if you are taking CBD to deal with heartburn and gut pain, it may be better to take CBD via capsules than to take it via tinctures. On the other hand, if you want something that works quickly to help relieve pain or deal with stress, then tinctures may be the better option. 
Furthermore, if you don't like the taste of CBD, capsules be may ideal for you. However, you can also consider flavored CBD tinctures which may help improve the taste.
back to menu ↑
Where to Find Quality CBD Online
Check out our picks for the best CBD online below: